See Canty on Iona…look out for the cat!
A short film featuring Canty celebrating in music the Feast Day of St Columba in his Abbey on Iona, with unique Scottish medieval plainchant and a new work by Ailie Robertson.
'The quality of the voices is outstanding' Early Music
'Magical, mystical, even erotic' The Scotsman
'The combination of voices and instruments is spellbinding' Early Music Today
***** 'Superb artistry' Goldberg
'Irresistibly attractive' The Daily Telegraph
'Serene timbres that would be the envy of similar medieval music groups' The Irish Times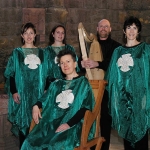 Canty, Scotland's only professional Medieval music group, was formed by Rebecca Tavener in 1998, the 900th anniversary of the birth of Hildegard of Bingen, and it comprises the regular female singers with Cappella Nova, Scotland's leading early music vocal ensemble.  As individuals, the singers bring to the group a wealth of experience, both as soloists and as members of other distinguished ensembles.  Together with regular collaborator, harpist William Taylor, they explore a unique repertoire combining Medieval music and contemporary works written specially for them, along with ongoing research and experimentation in performance practice for Medieval music from Celtic homelands.   Canty has nurtured close relationships with a number of leading musicologists specialising in medieval sacred music and, as a result, enjoys access to a considerable amount of rare or unique material.
Canty's debut CD, Wings of Wisdom, features chant by Hildegard von Bingen and from medieval Scotland and was released on the Dorian label.  Flame of Ireland (Sanctuary Gaudeamus), their second recording, features world premiere recordings of 15thc Irish chant for St Brigit of Kildare.  Their third disc, Felix Femina – medieval Scottish polyphony (Sanctuary Gaudeamus) was described by Andrew McGregor as having a 'transcendental quality that absolutely suits the music' (CD Review, BBC Radio 3).  A fourth CD, Apostle of Ireland, featuring Medieval Irish chant for St Patrick, has just been released on the Divine Art label.   Carmina Celtica, released by Linn Records in 2010, combines medieval repertoire with new works written specially for the group including pieces by James MacMillan and Sir John Tavener.
Canty has appeared in many distinguished festivals and venues at home and abroad, including the Edinburgh Festival, Galway Early Music Festival, Spitalfields Festival, Edinburgh International Harp Festival, the International Celtic Congress (Bonn) and the National Centre for Early Music in York.  Future projects include collaborations with visual artist, Maria Rud, in her ground-breaking Art AniMotion events wherein she paints in real-time, inspired by the music, and her work is projected to the audience.
'Intoxicating and truly spiritual''   Jersey Evening Post
'The singing is gorgeous' American Record Guide
'Voices that angels might envy' Green Man Review
'Voices carrying clearly through the stonework like messengers
from another age' The Herald
"In a word: Blissful!" Journal of Music in Ireland
William Taylor
Bill Taylor is a specialist in the performance of ancient harp music from Ireland, Scotland and Wales, and is one of very few players investigating these repertoires on medieval gut-strung harps, wire-strung clarsachs and Renaissance harps with buzzing bray pins.
He is a teacher-in-residence for Ardival Harps in Strathpeffer.  He teaches community music classes in the Scottish Highlands through Fèis Rois and is a guest lecturer at the Royal Scottish Academy of Music and Drama in Glasgow.  As a teacher of historical harps, he is frequently invited to lead workshops in the UK, Europe and the USA, including regular appearances at the Edinburgh International Harp Festival.  He is a contributor to the New Groves Dictionary of Music and publishes articles relating to aspects of playing the wire-strung clarsach and music from the Robert ap Huw manuscript.  He founded the Wire Branch of the Clarsach Society and is its convener.
Bill performs and records as a soloist as as a member of several groups.  As well as playing with Canty, he performs with singer and early wind player James Ross in the duo The Art of Musick and with the Highland consort Coronach.  In Belgium he plays with the Late Medieval ensembles Quadrivium and Graindelavoix.  Numerous radio and television broadcasts have featured his work with ancient Irish, Scottish and Welsh harp traditions, including live Radio 3 broadcasts with the Taverner Consort.
He has recorded for ASV, CMF, Divine Art, Dorian, Gaudeamus, Glossa, Greentrax, Maggie's Music, Rhiannon, Rota and Temple.