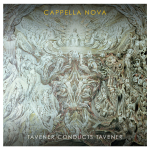 Latest CD release – Tavener conducts Tavener available at the special price of £12.50…  
Alan Tavener directs Cappella Nova in this unique tribute disc featuring many world premiere recordings of gorgeous choral works by Sir John Tavener.  A very personal sequence, the programme tracks our 25 year association with Sir John (Alan's third cousin), including pieces specially written for us: 'Ikon of the Nativity', 'A Buddhist Miniature', 'Two Hadiths', and 'Paradise Choir' from 'Resurrection') as well as rarely heard  works such as 'Take him, Earth, for Cherishing' and 'Sunrise in your Heart' alongside his most famous piece, 'The Lamb'.   It's an ideal gift as there are several Advent and Christmas works in the programme.  Sung with passion and dedication, this album is a true labour of love from us all, celebrating the memory of one of the most original, beloved, and far-reaching composers of recent times.
"John Tavener's music has always moved me – even as  an atheist.  Listening to this album I was overwhelmed  and despite this, much to my surprise, I went back and  listened to some of it again thereby completely knocking for  six my day's work schedule.  Since then I have continued to dip into it. Favourites? The  harmony of 'A New Commandment' appeals to me especially and  the vocal textures of 'O That We Were There!' are sublime. The  album is a tribute to John Tavener's memory and a  testament to the interpretive skills of his cousin whose deft touches can be heard and  felt on every track."  Tommy Fowler (composer)
And listen to extracts…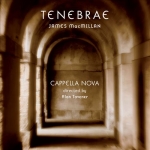 Tenebrae – New Choral Music by James MacMillan (Linn CKD301)
World premiere recordings of The Strathclyde Motets, Missa Brevis and Tenebrae Responsories by Scotland's leading composer.
Editor's Choice – The Gramophone, January 2008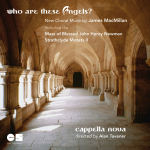 Who are these Angels? (Linn CKD383)
"Cappella Nova follow on from their 'undeniably beautiful' (The Financial Times) Linn Records debut, James MacMillan:Tenebrae, with a second volume of choral works by the leading contemporary composer. The outstanding Scottish group has a unique relationship with James MacMillan, the composer having written several works for them. All of the tracks are premiere recordings, recorded under the supervision of MacMillan, whose fascinating conversation with Rebecca Tavener about his new works is included in the CD booklet. Who are these Angels? includes the last of the Strathclyde Motets, seven of which were included on Tenebrae. Also included is the Mass James MacMillan wrote specifically for Pope Benedict XVI's visit to Scotland in September 2010, sung by over 150,000 people."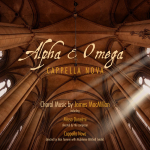 Alpha & Omega (Linn CKD439)
The third volume in Cappella Nova's ground-breaking series of recordings of sacred music by James MacMillan includes his Missa Dunelmi featuring the composer as guest conductor. In a rich selection of motets the highlights include Domine non secundum peccata nostra with Madeleine Mitchell on violin, a gorgeous sequence of works about the Blessed Virgin Mary and the mighty title-work, Alpha & Omega, with its earth-shaking text from the Book of Revelation.
Buy all three of the above James MacMillan CDs for a special offer of £27.50.
Read reviews on the Linn Records' website…
---
| | |
| --- | --- |
| | Columba, Most Holy of Saints (ASV CDGAU 129)Scottish Medieval plainchant, as preserved in the Inchcolm Antiphoner."The recording has real atmosphere and captures the full richness     of the singing" Classic CD |
---
| | |
| --- | --- |
| | The Miracles of St Kentigern (ASV CDGAU 169)Clarsach (played by William Taylor) with voices and bells in the   performance of chants from the Sprouston Breviary harks back to bardic   story-telling traditions."Alan Tavener's superb choir unearths early-Medieval chant in a sparse, simple style – a beautiful sound" The Scotsman |
---
Nou lat us sing – A Scottish Christmas (RTCD001)Capturing the spirit of our Carols by Candlelight concerts, this unique   collection features Gaelic carols, traditional Scottish tunes, 16th & 17th   century Scottish motets and Christmas songs, and carols written specially   for Cappella Nova by Herbert Sumsion and Sir John Tavener."You could not do better than find this in your stocking"
Church Music Quarterly
---
| | |
| --- | --- |
| | Laudes Deo : Motets by Robert Johnson (ASV CDGAU 154)Johnson, the Scottish composer who fled to England accused of heresy, represents the generation after Carver."A dazzling display of vocal virtuosity" BBC Music Magazine |
---
| | |
| --- | --- |
| | Sacred Music for Mary Queen of Scots (ASV CDGAU 136)The Mass Cantate Domino (attrib. Carver), described by Early Music   News as "a sumptuous work of great beauty and sonority".Plus psalm-settings (sung in early Scots) by Angus and Peebles.CD deleted, but download pending. |
---
| | |
| --- | --- |
| | Robert Carver Vol I (ASV CDGAU 124)Volume I of Cappella Nova's trail-blazing series.  Features the 10-part   Mass and motet in 19-parts, O bone Jesu ."a superb achievement" CD Review – 'CD of the Month'CD deleted, but download available from Shop. |
---
| | |
| --- | --- |
| | Robert Carver Vol II (ASV CDGAU 126).The celebrated Mass L'Homme armé, etc."This is really beautiful music!" American Record GuideCD deleted, but download available from Shop. |
---
| | |
| --- | --- |
| | Robert Carver Vol III (ASV CDGAU 127)More marvellous music by Scotland's Renaissance genius, including the 5-part Mass Fera pessima ."sets the seal on the rediscovery of a towering genius of       Renaissance   polyphony" Hi Fi NewsAlso available as a download from Shop. |
---
| | |
| --- | --- |
| | The Thistle and the Rose: Music from the Carver Choirbook (CDGAU 342)Carver's virtuoso Mass for Three Voices and other gems. |
---
| | |
| --- | --- |
| | Scottish Twentieth Century Choral Music (CKD014)A unique collection of works commissioned by Cappella Nova in the 1980s   White on White (Lyell Cresswell);12-part Motet In Memoriam Robert   Carver (Ronald Stevenson); Psalm of the Land (William Sweeney) |
---