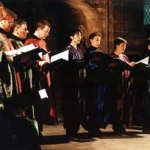 Cappella Nova, fondata nel 1982 da Alan e Rebecca Tavener, si distingue per l'incomparabile impegno con cui difende e promuove un prezioso patrimonio scozzese: la musica vocale antica. Il gruppo è altresì "famoso per le proprie esecuzioni di musica contemporanea" (The Guardian): dal 1986, infatti, ha commissionato ed eseguito in prima mondiale ben 60 opere. Tra queste ricordiamo il monumentale oratorio di tre ore di John Tavener, Resurrection (1990), trasmesso dalla BBC Radio 3 e la cantata per la settimana santa di James MacMillan, Seven Last Words from the Cross (Le Sette Ultime Parole dalla Croce) del 1994, che è stata il soggetto dell'omonima miniserie televisiva in sette episodi trasmessa dalla BBC 2 durante la settimana santa.  Nel 1996 Cappella Nova ha registrato la colonna sonora del film An Iobairst, composta da William Sweeney e premiata nell'ambito di Tartan Shorts, iniziativa dedicata ai cortometraggi scozzesi. Nel 2003 ha fornito l'ensemble vocale al gruppo The Delgados per la registrazione dell'album Hate, per altro molto acclamato dalla critica. Le prossime prime mondiali includono opere inedite di Judith Bingham, Ivo Antognini e Tarik O'Regan.
Cappella Nova, in collaborazione con l'ensemble di musica medievale Canty, ha inciso più di 15 cd, di cui 10 di musica medievale e rinascimantale (per l'etichetta Sanctuary Classics (ASV) Gaudeamus), tutti 'prime esecuzioni in tempi moderni'. Il gruppo si distingue anche per l'impegno profuso nel promuovere la musica di Robert Carver, compositore scozzese del XVI secolo. Oltre ad aver partecipato a molti festival britannici, Cappella Nova si è anche esibito più volte all'estero: Germania, Francia, Irlanda, Belgio, Ungheria, Russia e Stati Uniti. Tra i vari premi ricevuti ricordiamo gli innumerevoli Enterprise Award conferiti dalla Performing Right Society e il Glenfiddich Living Scotland Award per le innovative esecuzioni di musica antica scozzese.
Nel 1998, in occasione delle celebrazioni per il santo patrono della Scozia, sant'Andrea, e dell'inaugurazione del Museo Nazionale di Scozia, il gruppo ha eseguito alla presenza di Sua Maestà la Regina una prima mondiale appositamente commissionata al compositore William Sweeney.  Cappella Nova ha condiviso la scena con numerosi gruppi ed artisti tra cui: BBC Scottish Symphony Orchestra, Evelyn Glennie, John Sessions, The Scottish Brass Ensemble, St Petersburg Baroque Brass, Tom Fleming, Concerto Caledonia, Sheena Wellington, Sister Sledge, Theatre Cryptic e The Scottish Ensemble.
Cappella Nova è anche l'ensemble vocale dell'Università di Strathclyde.