Community & Outreach
Singing for All
We believe that everyone should have the opportunity to sing. There is growing scientific evidence that singing is good for you in the following ways:-
Singing promotes physical health with a beneficial influence on posture, breathing and the cardio-vascular system.
Singing promotes mental well-being and increases feelings of self-worth.
Singing helps to keep the brain sharp and is a wonderful learning experience for the young, improving concentration and confidence.
Singing encourages team-work.
Singing is a great social activity.
Singing is fun!
… and much more.
Cappella Nova offers all kinds of ways for everyone and anyone to get involved in singing, with events that suit a everyone from the complete beginner to the experienced amateur. Some of these activities are listed below.
Leaders
Cappella Nova's Community & Outreach programme is developed by a team of three key personnel.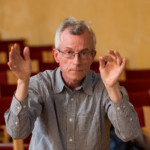 Alan Tavener
Conductor of Cappella Nova & Outreach Director
Even before he co-founded the professional choir Cappella Nova in 1982, Alan had begun his work in the amateur sector with the founding and direction of several student choirs. As Organist and Choirmaster of Jordanhill Parish Church in Glasgow , in 1996 he formed the Jordanhill Community Choir, and subsequently the ecumenical Jordanhill Liturgical Choir. As well as conducting Strathclyde University Chamber Choir (the group for which James MacMillan composed eleven of his fourteen Strathclyde Motets), he leads the choirs in the Centre for Lifelong Learning at the University of Strathclyde , and Cappella Nova's own community choir 'The Scottish Plainsong Choir' (see below). All of these choirs represent a wide range of aspirations and abilities, including many novices to choral singing. In addition to his regular choral conducting commitments, he also undertakes a considerable amount of ad hoc work with other established choirs – ranging from children's choirs to chamber choirs – and with ad hoc choirs, ranging between community choirs and one-off choral workshops.
Masterclass direction has included the Moscow Conservatoire (for student choral directors) and the Mentoring of Apprentice Conductors for the Association of British Choral Directors.  He has led Workshops for the Universities of Aberdeen, Abertay and Nottingham, and other organisations including the Early Music Fora of Scotland and of North East England. As a postgraduate student at the University of Strathclyde, Alan's research interests centred on the holistic benefits of group-singing activities.
Rebecca Tavener (soprano)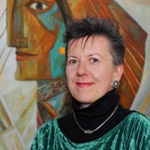 Creative Director of Cappella Nova
Rebecca creates the artistic programmes for Cappella Nova and also directs her own offshoot ensemble, the critically acclaimed medieval/contemporary group Canty. She has been involved in the Cappella Nova workshop programme for a decade during which she co-founded the Scottish Plainsong Choir with Alan Tavener. She has directed workshops in arts centres such as The Sage (Gateshead/Newcastle) and The Horsecross (Perth). She has directed events for both for undergraduate and postgraduate students, in University such as NUI Maynooth (Rep. of Ireland), Strathclyde and Aberdeen. She has collaborated with dancers and special-needs specialists in community programmes. With Canty she has led many workshops and master-classes for festivals, at home and abroad. A believer in and teacher of bel canto singing technique, Rebecca is particularly involved in leading sessions on the physical aspects of singing.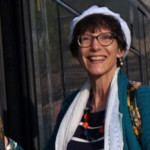 Anne Lewis (mezzo soprano)
Outreach Leader
Anne has worked as a singer ever since training at the Guildhall School of Music and Drama, and in recent years as singing teacher at Fettes College and St George's School for Girls, Edinburgh. She regularly conducts and arranges for community choirs, acts as voice coach for the Forth Valley Chorus (a 100-strong women's barbershop choir), and leads a fortnightly singing group for people with dementia. For several years she was coach/soloist for residential workshops led by Professor John Butt, teaching participants the essentials of Baroque oratorio singing. She now directs the hugely popular courses 'Health and Wellbeing through Song' in the Centre for Lifelong Learning at the University of Strathclyde.
The Scottish Plainsong Choir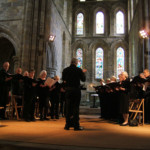 The Scottish Plainsong Choir is Cappella Nova's very own 'community' choir: its participants come from all over Scotland and further afield in the UK to sing in religious services, concerts and open days at interesting historic venues around Scotland and occasionally beyond. These have included Brinkburn Priory, Glamis Castle Chapel, Glasgow Cathedral, Iona Abbey, Lindisfarne, St Giles' Cathedral Edinburgh and Rosslyn Chapel.
Participants sign up on a project-to-project basis, and these take place every couple of months, generally comprising a workshop-rehearsal afternoon in advance of the day of the performance. Under the direction of Alan Tavener, Conductor of Cappella Nova, The Scottish Plainsong Choir sings sacred medieval repertoire including Gregorian and Celtic chant, the works of St Hildegard of Bingen, Cantigas de Santa Maria and Italian medieval Laude.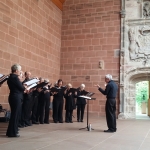 New participants are always made welcome, so if you would like to be added to the circulation list or to try out a project, please use the Cappella Nova Contact Form  – in the spirit of community choirs, there are no auditions! For more insights into the style of The Scottish Plainsong Choir's projects, watch a film of Sung Vespers in Glasgow Cathedral, and participant Blogs from the Cathedral of the Isles and Iona Abbey.
Forthcoming projects include an Open Doors Day promenade performance at St John's Kirk Perth and an informal performance at Rosslyn Chapel.